Situated in St Helen's E.D., Ballytrent, with its double ringed ráth, is an 18th century  home set in extensive ground. The history of Ballytrent is a collection of works and illustrations put together after several years  of research by Mary Stratton Ryan, wife of the present owner, James Power Ryan.
A brief look at this work could keep the most avid historian content for quite a while. It is from this book that the following list of names and facts are taken,  all having connections to Ballytrent.
Aymer De Valance; Earl of Pembroke, buried in Westminster Abbey, London.
Robert Fitzstephens; Ballytrent bestowed on him by Strongbow.
John le Boteller (Butler); Constable of the Kings Castle at Ballytrent.
John Sinnot; Listed as a Juror of the Inquisition at Wexford (c1420).
Patrick Synnot; In a 1656 Curl Survey of Ireland shown as owner of 96 acres 24 perches at Ballytrent.
Abraham Deane; Given Ballytrent by Cromwell.
Sarah Hughes; Daughter of Abraham Deane.
Walter Redmond; Purchased Ballytrent from Henry Hughes.
William Archer Redmond MP; Father of John and William – both also MP's.
John Edward Redmond MP; Represented North Wexford, succeeded Parnell as leader of the Nationalist Party.
William Hoey Kearney Redmond MP; MP for Wexford and Fermanagh.
John H. Talbot (the younger);  Inherited Ballytrent from his sister Matilda Seagrave.
William Ryan; Grandson of Sir James Power. Purchased Ballytrent from Emily Talbot (nee Considine).
James Edward Power Ryan; Present owner and grandson of William Ryan.
This clearly illustrates the influence and power that is part of the documented history of Ballytrent, without even considering the possibilities of the time when the ráth was in its prime.
The Flag Pole.
The 116 foot tall flagpole that was once the tallest mast in the British Isles stands on the outer circle of the rath to the seaward side and was used to signal to ships before the days of radio communications.
It was transported to Ireland from Canada strapped to the side of a sailing ship. On arrival at Tuskar, it was dropped overboard and floated in on the beach at Ballytrent. It is believed that men sitting astride the mast paddled it in to the shore. Even in these modern times, moving a load of almost forty meters would be a reasonably large undertaking – but in the 1800's it must have been a monumental and highly dangerous operation.
The Ráth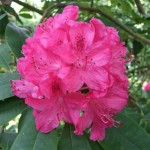 One of the attractions of Ballytrent is the Mulgrave Ráth, named after Lord Mulgrave. Also known as Marquess of Normandy, Earl of Mulgrave and Lord Lieutenant of Ireland, he was responsible for building the stone wall around the ráth.
A visit to the ráth at Ballytrent provides a window on times past. Rhododendrons, magnolias, clematis and carpets of bluebells in spring , provide the perfect setting. There are also anumber of tree ferns now over 40 years old which have grown to a height of 12 feet or more. At one time these tree ferns were known only to be grown in two or three other locations in Ireland.
The sound of bird song and the sea all contribute to making your stay at Ballytrent a memorable and enjoyable experience.
The very centre of the ráth lends itself to images of ladies sitting under parasols having afternoon tea. Over at one side are the remains of a Victorian glass house. A great place to read a book, paint or just sit & enjoy the peace.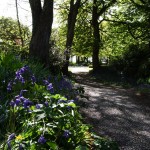 The glass from this is still in existence in some of the windows of Ballytrent House. It was used to replace the shattered windows when a World War bomb exploded on the beach nearby.
The Ballytrent ráth had its beginnings in the mists of time. It's a place filled with mystery and magic where, according to legend, in the autumn gloaming you may see a phantom coach and horses disappear into the sea.
Staying at Ballytrent is a most enjoyable experience which will leave the visitor with a unique sense of peace, tranquility and comfort.